Mission and Impact
Mission
The Art Effect empowers young people to develop their creative voice to shape their futures and bring about positive social change. The Art Effect helps youth explore, experience, and excel in the arts, introducing them to visual arts and media, giving them the opportunity to develop real skills in these fields, and guiding them towards achieving their academic and career goals. We believe that the arts have the power to create a more vibrant, caring, and sustainable world led by a generation of youth who value creative thinking, diverse voices, and stronger connections between all people. The Art Effect directly serves over 2,000 young people in classes and programs throughout the Hudson Valley each year. We indirectly reach over 8,500 people through events, exhibitions, and public art installations, and nearly 10,000 through our extensive online presence.
At The Art Effect, every student, from our youngest artists to our flourishing filmmakers learns how to cultivate and share their unique voice with the world. Our programs provide an outlet to express their rage, fears, and hopes as well as provide early job experience allowing youth to earn money and a mentorship that provides continuity during these major transitions.
The Art Effect provides youth with a comprehensive core program sequence that benefits from cross-disciplinary, visual, and media arts education. Our programs are arranged into three overlapping branches: Explore, Experience, and Excel. Explore focuses on providing immersive introductory-level experiences in visual arts and media for students ages 4-11. Experience engages with students ages 11-18 using art as a hands-on tool for self-discovery, life skills development, and early job experiences. Excel provides youth ages 14-24 with advanced art programs, to prepare them for entrance into higher education or career.
The Art Effect is committed to advancing young people's journey from learning to leadership by engaging them in transformative practices in the arts and media that build future careers and foster personal development. Art promotes social skills, enhances a respect for others, and provides a greater understanding of culture and diversity. At the heart of these defining attributes, The Art Effect continues to play a crucial role as the motivator that promotes these changes among young people in our community.
Impact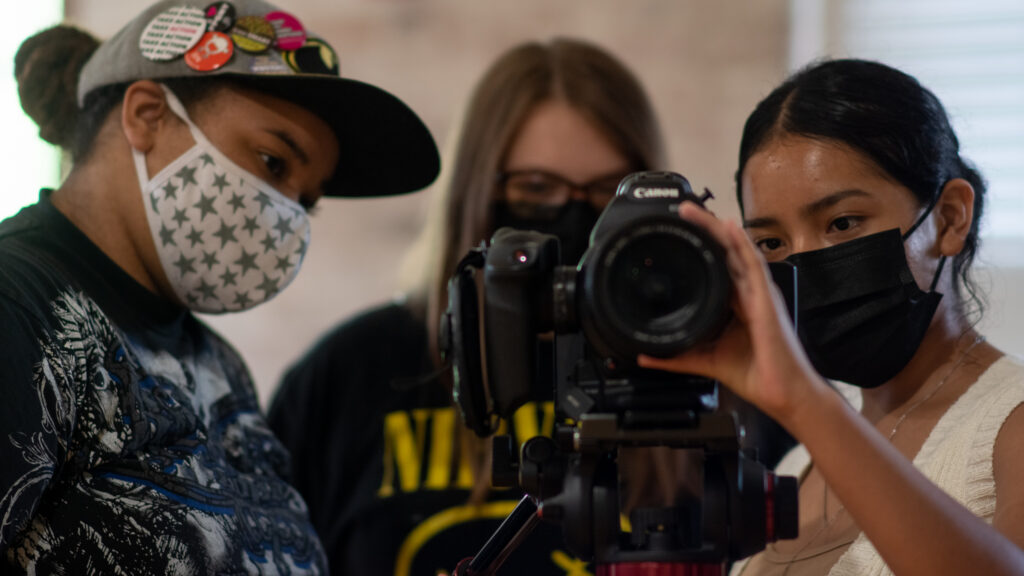 "Food, clothing, shelter – we all need these. For our spirit, it's creativity that contributes to our well-being." – Judy Elkin, Board Member
The Art Effect facilitates educational programming, community building, and youth leadership at three locations within the Hudson Valley; Pershing Ave, the Poughkeepsie Underwear Factory, and The Trolley Barn Gallery.
Re-activating the iconic Trolley Barn through an innovative approach to youth empowerment through the arts, The Art Effect is putting youth in the driver's seat of this incredible space, empowering them to engage community members and visitors in transformative arts experiences that they curate. Establishing connections with curators and arts professionals, such as Barrett Art Center, The Art Effect at the Trolley Barn brings impressive exhibitions of high-caliber artwork to Poughkeepsie.
The Art Effect seeks to achieve high, sustainable impact. Our goals are ambitious — and our students are, too! Our goals for youth participants who complete our sequential programs include:
100% will graduate from high school
100% will create and post a portfolio of work online
100% will apply for admission to college and will enter a 2 or 4-year institution
100% of those who complete the Art Institute will receive a scholarship
100% will secure employment within 1 year after they graduate from high school or enter college
Annual Report
Here's a snapshot of what we accomplished together in 2020:
110 youth were employed at The Art Effect through workforce development programs that support youth in building skills for a better future.
$958,100 in college scholarships offered to students

90 teachers and librarians trained in arts education development

72% of expenses went straight into programs