Tlazotl, Weaver's Wings: Oaxaca Week Exhibition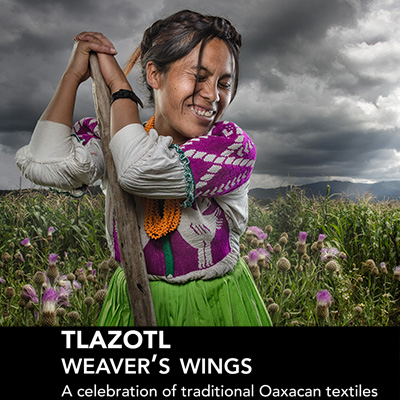 Oaxaca Week in Poughkeepsie celebrates our city's connection with traditions from the diverse Mexican region from July 29 – August 5. Click here for more more information and a full lineup of events.
"Tlazotl, Weaver's Wings"
Exhibition opening, July 29 from 4-6pm showcasing actual indigenous garb, on display at the Trolley Barn (489 Main Street, Poughkeepsie)
This collection of textiles and traditional costumes represent the daily lives of the many indigenous groups of Oaxaca. The huipil, created by the Oaxaca women is a hand-woven cotton tunic using natural dyes and adorned with embroidery. The traditional garments offer a visual language in which the natural wealth of the territory, the history of its people, and the indigenous cosmogony are reflected. The exhibit has been shown in Florence, Italy, Panama, Ecuador, and now Poughkeepsie.
FEATURING TEXTILES FROM THE REGIONS OF:
Papaloapan
Mazatec Sierra
Chicahuxtla
Tlahuitoltepec
Ojitlan
Mixteca
San Pedro Amuzgos
Tamazulapam del Espíritu Santo
San Juan Cotzocón
Ejutla Central Valley
"Art in a Suitcase: Women Creators of the World"
Exhibition opening, July 29 from 3-4pm at the MASS Design Group (289 Main Street, Poughkeepsie)
Featuring six Oaxacan female artists in a variety of media: photography, ceramics, oil and watercolor painting. Although born in different parts of the world and working with varying artistic media, this group of women artists reflect the rich cultural ambiance that Oaxaca offers them through a collection of work that is easily portable throughout the world. Art in a Suitcase: Women Creators of the World has been shown at the Municipal Palace of Santa Cruz Colchagua, Chile as well as throughout Mexico, Europe, and Latin America.
SELECTED ARTISTS:
Cecilia Salcedo
Maria Rosa Astorga
Ines Lara
Nora Muro
Siegrid Wiese
Yari Montes
---
Tlazotl, Weaver's Wings
Virtual Gallery